Product Description
Set up speakers in the simplest fashion
The simple speaker set up mode allows a quick and easy way of setting up high quality sound in your home. You don't have to worry about placing surround speakers with the simple speaker setup. With intuitive GUI, simply select the position of surround speakers which will automatically enhance the stereo sound. The Samsung DVD home entertainment system makes watching movies even more enjoyable.
High quality surround sound from your TV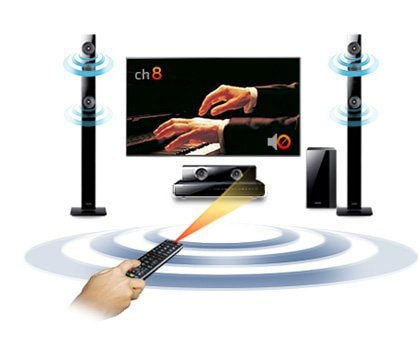 Don't let poor sound quality ruin your perfect movie night. With the TV Sound On feature in the Samsung DVD Home Entertainment System, you can hear high quality surround sound from your TV source. All you need to do is to push the 'TV Sound On' hot key on the remote controller and you'll have superior quality surround sound. Your perfect movie night just got better.
Upscale your collection
Breathe new life into your movie collection with the Samsung Home Entertainment System and upscale your standard definition DVDs into high resolution DVDs. Your favourite DVDs will feature the same brilliant details and rich, robust colours you've come to enjoy from the high definition content on your HDTV.
Make your music into MP3s easily
Enjoy fast and flexible MP3 creation from a range of audio sources. With the built-in EZ MP3 Maker, you can use your home entertainment system to make high-quality MP3 files via CD ripping or recording from FM radio and AUX input. With a suitable cable, you can even connect a turntable and transfer vinyl records into digital media. It's easy to convert your music collection into this convenient modern format.
HDMI (ARC)
HDMI ARC (Audio Return Channel) allows you to easily connect compatible devices to process the TV's audio signal without a separate optical cable to your receiver. Two HDMI inputs keep your AV devices connected with fewer cables for a totally new audio experience.
Crystal Amplifier Plus
Samsung's proprietary digital amplifier technology, Crystal Amplifier Plus, delivers HD quality sound through you Samsung Home Entertainment System. This innovative technology was designed to filter sound sources twice to minimise distortion and produce crystal-clear sound. Now everything you hear sounds exactly the way it was meant to be heard.
General Features

Total Power

1000W

Disc Capacity

1

Deck Type

Tray

Number of Channel

5.1

Playable Disc Type

DVD-Video/DVD±R/DVD±RW

Yes

CD DA/CD-R/CD-RW

Yes

VCD 1.1

No

Decoding Format

DIVX (including XVID)

Yes

MP3

Yes

WMA, WMV (1/2/3/7)

Yes

JPEG

Yes

Audio Feature

Dolby Digital

Yes

Virtual Surround 5.1ch

Yes

Smart Volume

Yes

MP3 Enhancer

No

Giga Sound

Yes

Power Bass

Yes

Simple Speaker Setup

Yes

User EQ

Yes

Local EQ

No

Football Mode

Yes

Number of Sound Modes (DSP)

9

Video Feature

BD Wise

Yes

Video Up-Scale (DVD)

Yes

Connectivity

Anynet (HDMI-CEC)

Yes

USB Host 2.0

Yes

ARC (Audio Return Channel)

Yes

HDMI Out

Yes

Composite Output

Yes

Component Output

No

Number of Audio Input

2

Number of Optical Input

1

Tuner
Special Feature

Crystal Amplifier Plus

Yes

CD Ripping

Yes

TV Sound On

Yes

Last Scene Memory

No

Speaker

Type (Tallboy/Satellite/Swivel)

4 Tall-boy

Sub Woofer

Passive

Front

2 Way 2

Center

Full Range

Surround

2 Way 2

Dimension (WxHxD)

Product Dimension (WxHxD)

430 x 58 x 250mm

Spk (Sub Woofer) Net Dimension (WxHxD)

170 x 350 x 287mm

Spk (Front) Net Dimension (WxHxD)

95 x 1100 x 75mm

Spk (Center) Net Dimension (WxHxD)

227 x 95 x 75mm

Spk (Surround) Net Dimension (WxHxD)

95 x 1100 x 75mm

Gross Dimension (WxHxD): One Packing

860 x 450 x 400mm

Weight

Product Weight

2.3kg

Spk (Sub Woofer) Net Weight

6.1kg

Spk (Front) Net Weight

2.8kg

Spk (Center) Net Weight

0.5kg

Spk (Surround) Net Weight

2.8kg

Gross Weight: One Packing

19.9kg

Power

Stand-by Power Consumption

0.5W

Operating Power Consumption

67W

Free Voltage

No

Accessory

Composite Cable

Yes

Antenna

Yes

HDMI Cable

No

Optical Cable